Kirk van Gilder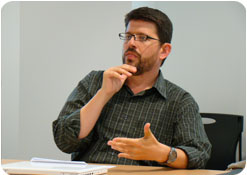 Rev. Kirk VanGilder, Ph.D., is the assistant professor of religion at Gallaudet University in Washington, D.C. Kirk was born hard of hearing before losing more hearing in late adolescence and transitioning into the Deaf world. He is an ordained United Methodist clergy person and has served as a minister in Deaf churches in Baltimore and Pasadena, MD as well as campus minister to Gallaudet University from 1997-2002. Kirk has also traveled to Kenya, Zimbabwe, and Turkey to work with Deaf community development and support. He is the author of Making Sadza With Deaf Zimbabwean Women: A Missiological Reorientation of Practical Theological Method, published by Vandenhoeck and Ruprecht in 2012. Kirk hopes to continue his travels and research in other countries as well as present his findings and experiences to a wide variety of scholarly and non-scholarly audiences.
Kirk writes: I have many 'favorite scriptures' and they change from time to time as does my life and relationship with God. Recently Jeremiah 29:11-13 stuck in my head after reading it during devotions. It is God speaking through the prophet Jeremiah to the exiled people of Israel in Babylon.
I know the plans I have in mind for you, declares the Lord; they are plans for peace, not disaster, to give you a future filled with hope. When you call me and come and pray to me, I will listen to you. When you search for me, yes, search for me with all your heart, you will find me (CEB).
This passage also speaks to me in a time when searching for new directions and new ways to engage in God's mission in the world are still possible to me as I have finished the long journey to my Ph.D. and look ahead in my life.
One hope I have for UMCD is to see it become a network that empowers Deaf people to better respond to how how we recognize and engage in God's mission in our local settings.