Bryan Branson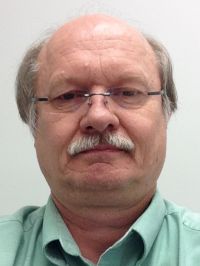 I am a Farmers Insurance Agent residing in Spokane, Washington. I have been selling Farmers Insurance Auto, Home and Life Insurance for about 12 years. Before that I worked at Hewlett-Packard Company in Manufacturing and Finance for about 18 years.
I attend Manito United Methodist Church. I serve as the chairperson for the Inclusivity Committee which tries to make my church more accessible by installing the induction loop system, setting up disability parking spaces, setting up wheelchair accessible bathrooms, establish a sign choir and have a staff sign language interpreter.
I also serve on the United Methodist Committee on Deaf, Hard of Hearing and DeafBlind(UM-DHM).
I graduated from Gallaudet College in 1981 majoring in Business Administration. From 1976 to 1981 I went to the Washington UMC of the Deaf where Rev. Roy Schauer was a pastor. At that time there was a Wesley Club on campus.
I tend to like looking at the north sky near my home. I used to see a dark colored cross in the sky twice in the past. Maybe it used to be the same one Constantine I used to see.
I can be reached at this vp number 509-315-2284.