Northeast Jurisdiction
---
November 9-10, 2018
Deaf United Methodists Gather for NEJ Fall Retreat
By Rev. Leo Yates, Jr.
Many members of The United Methodist Congress of the Deaf (UMCD), a national caucus of The United Methodist Church, gathered recently in the Northeast Jurisdiction for a two day retreat that included Deaf, hard of hearing, late-deafened, Deafblind, and hearing allies. This gathering was on November 9-10, 2018 outside of Baltimore, MD. Hosted at the BWI Best Western Hotel, the planning church, Magothy United Methodist Church of the Deaf, planned several Deaf leadership training sessions. There were two leadership tracks offered: (1) Wesleyan training and (2) Basic Certified Lay Servant (CLS) training. Most participants belonged to churches with Deaf ministries, while some came from all-Deaf congregations or churches.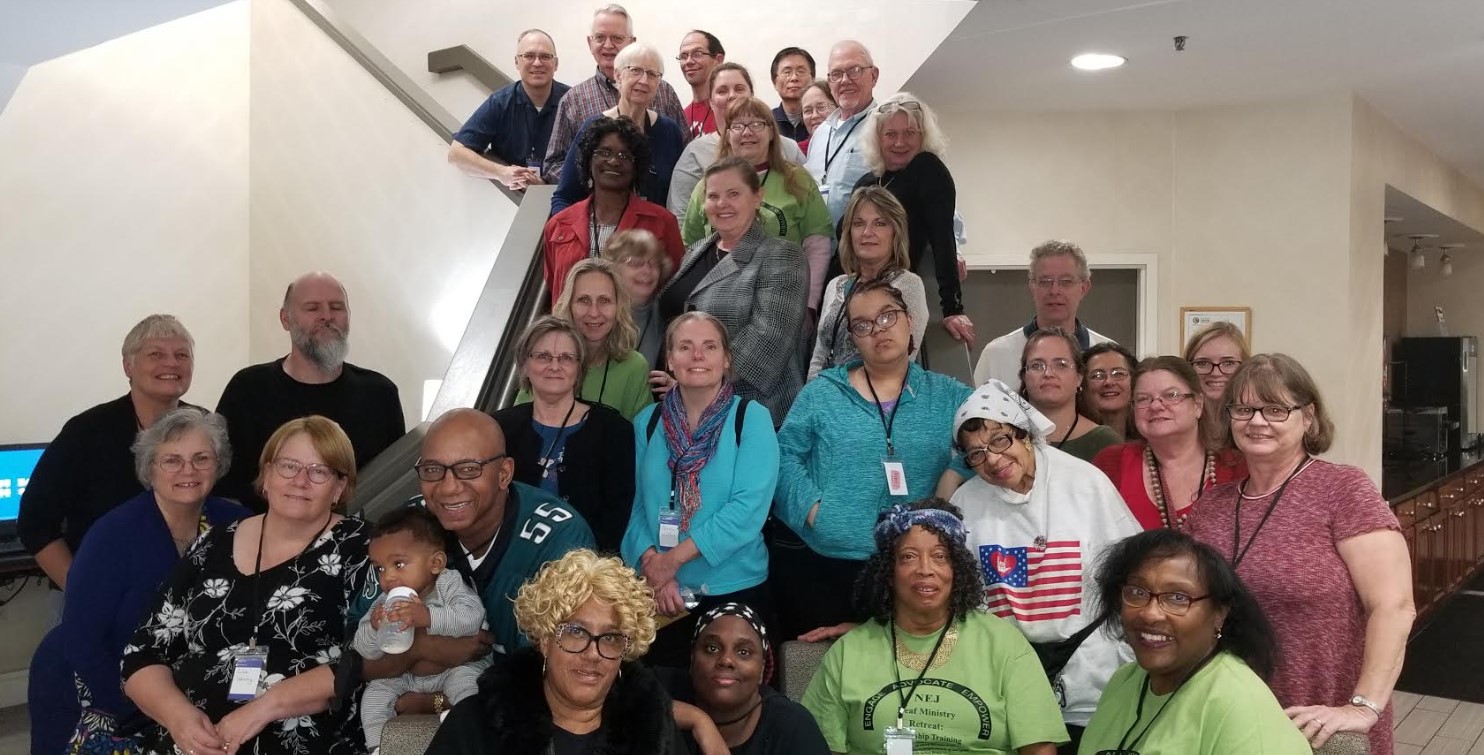 Deaf United Methodists came from New Jersey, Pennsylvania, the District of Columbia, Maryland, Delaware, North Carolina, Michigan, and Florida. The retreat provided an opportunity to network, following an emphasis on the connectionalism that makes them United Methodists. UMCD's president, Billy Deters, and his wife, Mary Ann, came from Florida to support, witness, and encourage the participants in the NEJ. "I'm so glad we could gather for this. It's so good to see everyone," said Deters.
The theme of the retreat was "engage, advocate, empower." "Serving others is a strong way to witness our faith," said Yates, one of the retreat planners. "I love seeing Deaf people taking charge," said Rev. Emily Hart, Magothy's lead pastor. The NEJ caucus president, Karen Miller, was very pleased with the retreat and expressed her gratitude for giving everyone an opportunity to live out their faith in diverse ways. The retreat Scripture, 1 Peter 4:10, resonates with the idea of servant leadership: "Each of you should use whatever gift you have received to serve others, as faithful stewards of God's grace in its various forms."
The Deaf Basic CLS class was approved and adapted from the traditional CLS curriculum to better fit the language, culture, and needs of Deaf, hard of hearing, late-deafened, and Deafblind persons. The instructor was Carol Stevens, a Certified Lay Minister. The Friday afternoon portion of the Wesleyan training included an overview of United Methodist history and the theology of grace by Rev. Leo Yates. This session included a tour of Lovely Lane UMC, the location of the Christmas conference that established the Methodist denomination in 1784. The Saturday training included a "works of piety" class taught by Rev. Peter and Deb Myers and a "works of mercy" class that emphasized spiritual gifts, taught by Alma Andrews.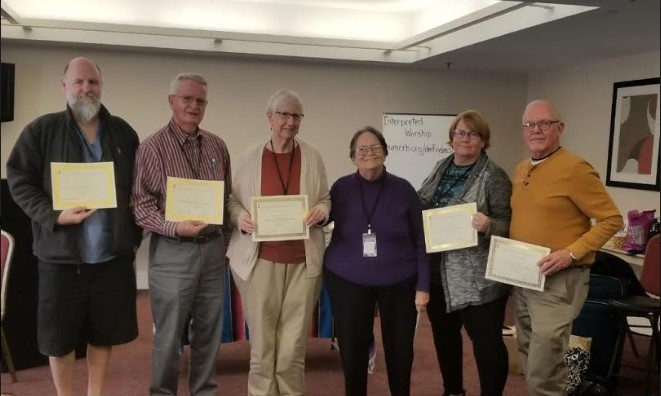 Darlene Koontz, a Magothy church leader, shared her gratefulness to the Deaf and Hard of Hearing Ministries Committee, a committee of Global Ministries, and the NEJ of The UMC for providing financial support for this retreat. It provided the ability to support the retreat with lodging, sign language interpreters (so everyone had communication access including hearing persons who did not sign fluently), and food. The denomination's commitment to Deaf Ministries is critical to helping to revitalize church ministries and make bridges to the Deaf community and those with hearing loss.
The retreat concluded on Saturday afternoon with a closing covenant service that was co-led by Rev. Dr. Sandi Johnson, the director of Deaf Ministries of the Baltimore-Washington Conference and other Deaf and hard of hearing persons who served as worship leaders. At the end of the retreat, participants shared Communion and prayed with one another for fruitful ministries going forward.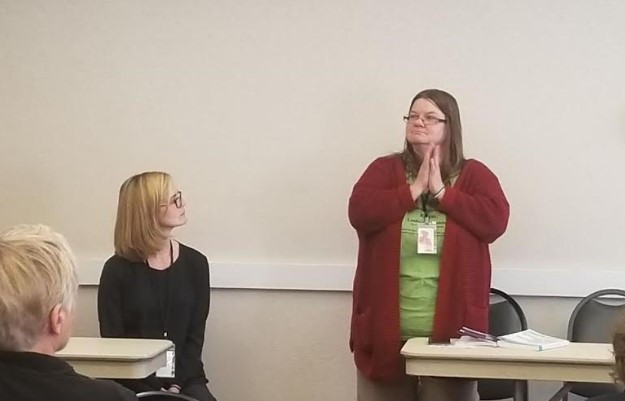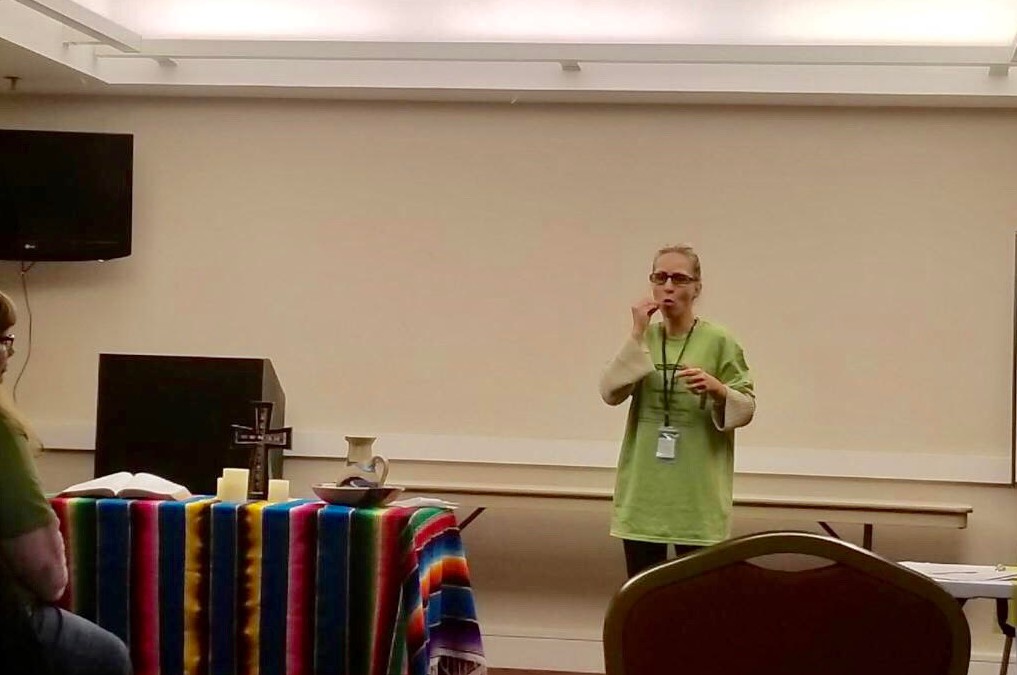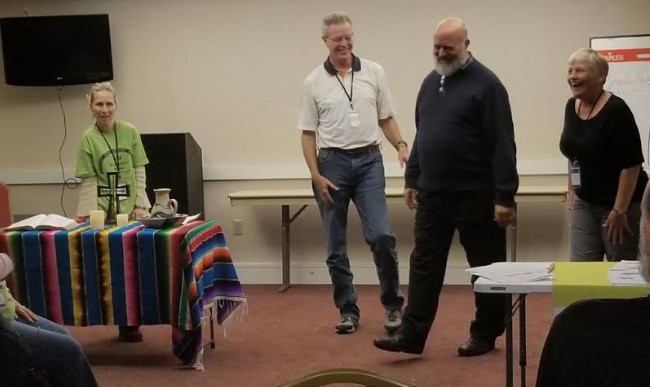 Event Information
---