Northeast Jurisdiction
---
Summer 2018
Deaf Camp in Delaware
By Carol Stevens, photos by Clellie Merchant
From Isolation towards Deaf Community
Imagine that you live on a desert island in the company of a few strange people who move their mouths but no sound comes out. Day after day you live in the frustration of moving mouths with no understanding, no communication, unable to express your needs and fears, your hopes and dreams. The world spins on around you but you have no clue.
Although many Deaf people live happy, successful lives, this is the existence for the Deaf people who have additional disabilities and are living in hearing group homes.
Deaf ministry in the Peninsula-Delaware conference is impacting the lives of Deaf adults with additional disabilities who are living in hearing group homes in Delaware. They live apart from each other in separate group hoems with no sign language using staff. The Delaware Division of Developmental Disability Services has not kept statistics of the numbers of Deaf people in group homes and, therefore, is unaware of how many are in this situation.
For 8 years, Deaf Ministries of the Pen-Del Conference has held an annual week-long residential camping experience at Camp Pecometh for Deaf people in group homes from the eastern shore of Maryland, eastern Pennsylvania, and Delaware. This camp has made us acutely aware of the devastating isolation and the lack of meaningful interaction with others for those from Delaware. Those from Maryland and eastern Pennsylvania have Deaf group homes with signing staff and easy communication, places where they can grow and achieve their potential and have a wonderful quality of life. Such is not the case for those isolated throughout the hearing group homes in Delaware. They are each in different group homes and even after 18 years, their staffs have never learned sign language to communicate with them. After 51 weeks of no communication, they live for camp. All year they sign "Camp? Camp? Camp?"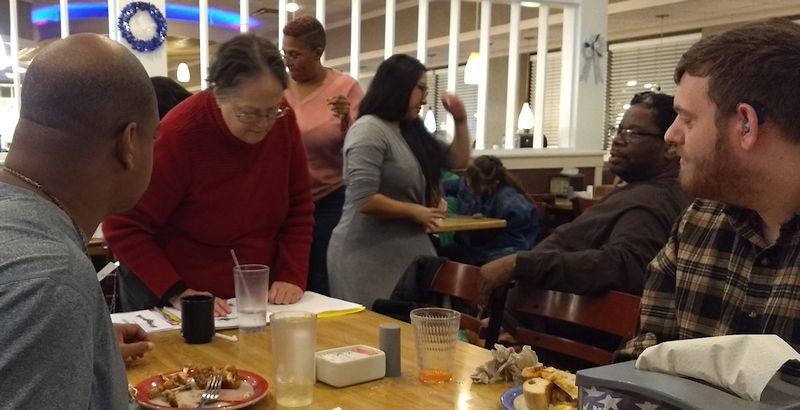 Deaf Ministries of the Pen-Del Conference has formed a group a Deaf and hearing advocates and parents of Deaf people with additional needs referred to as "Deaf+" to research and advocate for group homes in Delaware with all sign language using staff. Members of the group have called all of the agencies listed as service providers to try to "find the lost Deaf sheep."
Having the state of Delaware set up Deaf group homes where Deaf people have each other and sign fluent staff is going to be long process. Meanwhile, these Deaf+ brothers and sisters are languishing in isolation.
New Deaf Ministry Outreach
We are called to be ministry and this is a group that is "invisible" and needs the transformation of Christ-like community. We have formed a Deaf + Fun Social group and we are having communication and fun and friends and activities to add some joy to their isolated life. Hands were flying and faces were smiling as 6 group home members and a group of Deaf and hearing volunteers met for dinner and a time to just have communication and fun. A withdrawn Deaf young man very quickly started to talk to a new friend and they found out that they were both bowlers and they signed for 2 hours. Those who have gone to camp told the others about camp and told them to come because "camp is big, big fun." Everyone was thrilled.

We encourage our other Deaf Ministries throughout the Connection to seek out those Deaf people who are not being properly served and advocate and provide an opportunity for Christian community and FUN!
Carol Stevens
Deaf Ministry Area Coordinator
Peninsula-Delaware Conference

---