---
National news
UMCD National Meeting, July 2016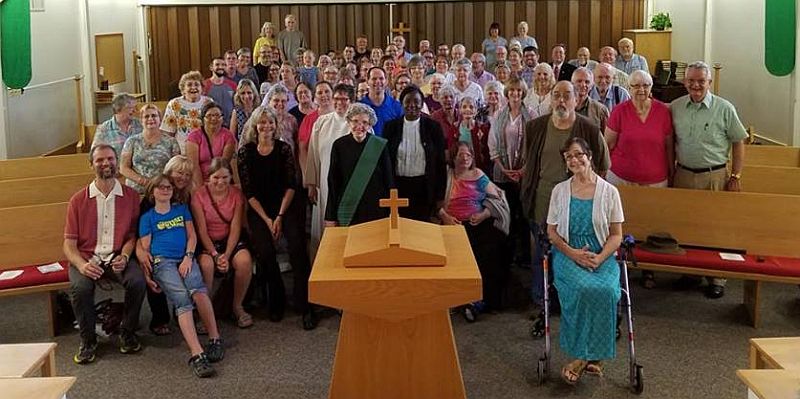 A national gathering of the United Methodist Congress of the Deaf took place in in St. Paul, Minnesota at St. Catherine University, July 21-24, 2016. Our hosts were the Evangelical Lutheran Association of the Deaf (ELDA), who arranged to share their conference with us and the Episcopal Conference of the Deaf (ECD).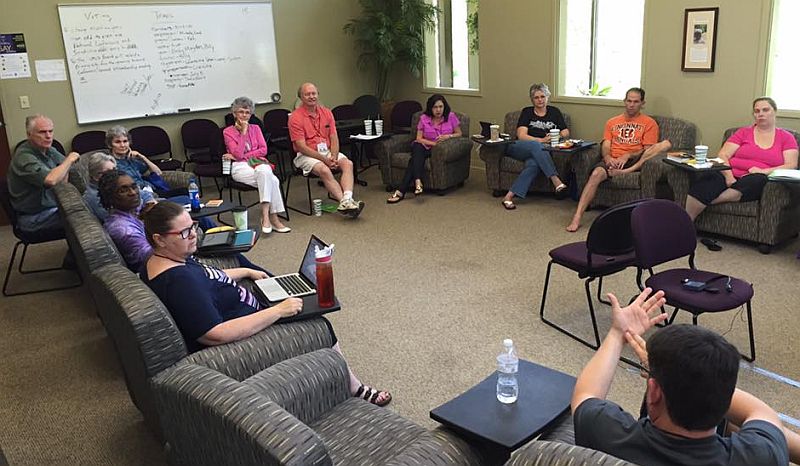 Also, we will be presenting two awards in Excellence in Evangelism and Mission: The Philip Hasenstab Award (to an individual) and The Daniel Moylan Award (to a church).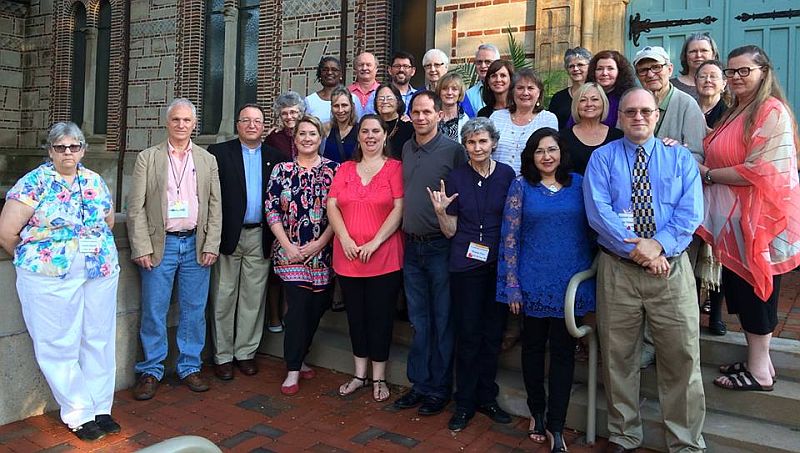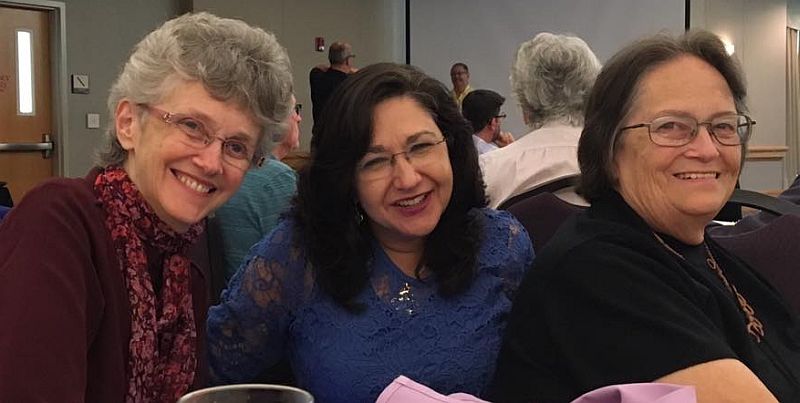 ---
First International Conference of Mission and Deaf Culture
July 2-3, 2016
Click on image for larger version.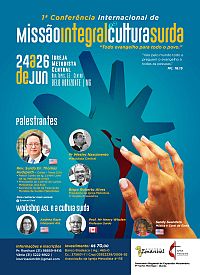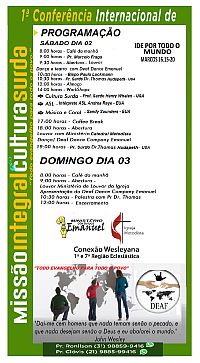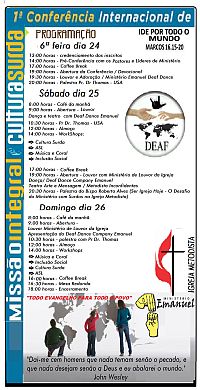 ---
---
A Joint Statement from the Evangelical Lutheran Deaf Association, Episcopal Deaf Conference and the United Methodist Congress of the Deaf, December 2015
---
Joint Statement of ELDA, ECD, UMCD, UM-DHM, December 6, 2014
---
2014 Officers Election I am happy to report the results of the UMCD Officers election held July 7-21, 2014.
First, I want to thank Rev. Tom Hudspeth for chairing the Nominating Committee and Rev. Rob Vaughn for tabulating the votes and reporting the results.
The new officers are:
President - Rev. Tom Hudspeth
Vice-President - Rev. Kirk vanGilder
Treasurer - Linda Ford
Secretary - Rev. Sandi Johnson
Additionally, Dan Kenyon will be Past President of UMCD. I personally want to thank all of you for your support for during the past 9 years. It has been a pleasure to lead and serve UMCD.
Blessings and Peace,
Dan Kenyon
---
Christ Church of the Deaf receives Daniel Moyland Award of Church Excellence in Deaf Mission and Evangelism, August 2, 2014
---
2011 Conference
The 2011 United Methodist Congress of the Deaf Conference was at Lake Junaluska, North Carolina on July 29-31, 2011. The featured guest speaker was be Bishop Peggy Johnson of the Eastern Pennsylvania and Delaware Conferences. The conference celebrated 40 years of Deaf ministry work in the Western North Carolina Conference.
---
2008 General Conference
This the ASL TEAM at General Conference 2008.
Barbara Steinbrenner; "God"
Alison Fischer; "Loves"
Michelle Menefee; "You"
All are UMC interpreters in their respective local churches as well as serving in Annual Conferences. All are professional, certified, interpreters.
---
2007 Conference

About 40 to 45 people attended our UMCD conference on July 19-22, 2007 in Orlando, FL. We all had a wonderful time! We enjoyed Paul Jones sharing devotions, worships and his testimonials. Paul emphasized that we should be communicating and talking with God each and every day — God wants us to talk with Him, He wants us to let Him know of our needs, and He wants us to ask Him for guidance.

There were 3 workshops presented during the conference. Rev. Wineva presented a workshop on "Fun Raising on Fund-Raising," Dan Kenyon presented a workshop on Lay Leadership, and Rev. Joo Kang shared with us about the retreat center near Seoul, Korea where our 2009 UMCD Conference will be held.

We also held a singing signing songs contest. There were 5 individuals and group contestants. The songs they signed were magnificent, and enjoyed by all. First place and $150 winner was Maria Jones of Orlando, FL, second place and $120 winners were 3 members of Christ Church of the Deaf, Lasander Saunders, Charlotte Shears and Ellsworth Bouyer of Baltimore, MD. Third place and $100 winners were tied between Paul Jones of Orlando, FL and Ishmael Katema of Mutare, Zimbabwe — each won $50.

UMCD celebrated its 30th anniversary. UMCD was founded in July 1977 at Trinity College in Washington, DC. Different people shared the history of UMCD. Thanks to the Orlando, FL planning group for providing UMCD a 30-year anniversary cake.

During free time, UMCD attendees visited the Disney Village, did some shopping, and/or relaxed in the pool at the hotel.

Future UMCD gatherings will be different. We will have at least 4 days of testimonials, devotions, worship and Bible study. We will begin doing that in 2009 when UMCD meets near Seoul, Korea. From what I gathered, it should be an inspirational experience, something we can take back home to share with others. You won't want to miss it!!!

I heard from some people that flights to Korea would be too expensive. I can understand that this particular trip will be costly due to airfare, but that is a POOR reason for NOT going to Korea in 2009. Please don't let expenses of 2009 UMCD Korean trip frighten you. About 75 Koreans and Japanese sacrificed their money and flew to the U.S. to join us at the 2005 UMCD global gathering in Baltimore, MD. So, let us plan on going to Korea in 2009! WE CAN DO IT!!!

Blessings and Peace,
Dan Kenyon, UMCD President