<!==pictures 0.75 ratio, 200 x 267 pixels==!>
Gwendolyn Maxine Mix: August 24, 1924 - November 30, 2020, Deaf interpreter. Member of UMCD, donor to UMCD Endowment Fund, attended the 2003 meeting at Lovers Lane UMC in Dallas and 2005 Global Methodist Missions Conference.
Des Moines Register obituary; Hamilton's Funeral Home obituary
Renae Marie Thomson-Hohl: January 24, 1961 - September 4, 2020, Deaf interpreter
Chadwick & McKinney obituary
Lorene Joyce Evans Wolf: July 31, 1933 - August 21, 2020
Mercer-Adams obituary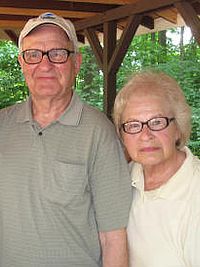 Leo Yates, Sr.: July 18, 1920 - October 3, 2019
A Life of Integrity— Few people have impressed me more than Leo Yates, Sr. I met him and his wife, Betty years ago when I served as the pastor of the Christ UMC of the Deaf. They were members of the Washington UMC of the Deaf and they served on all the committees and brought their twins: Leo, Jr. and Sarah with them. I would see the Yates family at annual conference Deaf gatherings and United Methodist Congress of the Deaf national meetings. Leo was a professional, a well-educated man, a volunteer to many organizations, and a true-hearted Christian. He was devoted to his Lord, his family and his church. Later when the Washington UMC of the Deaf closed he remained faithful to other churches, always giving, always helping, always encouraging.
My favorite memory of Leo Yates, Sr. was his help with the children's Deaf Camp that I began back in 1989 at West River Camping and Retreat Center, near Annapolis, MD. He and Betty would faithfully volunteer a full week at the camp, giving these Deaf children much-needed Deaf role models. Deaf Camp was not for the faint-hearted. The children were often rambunctious and there were plenty of temper tantrums. But none of this ever seemed to fluster Leo. He would remain an un-anxious presence through it all. Even the most disruptive child would not bother him. He would say "that child is very active." I would say to myself "that child is working my last nerve."
I would assign to Betty and Leo the task of doing "triage" with the most challenging campers. They would follow around the "misbehaver""and redirect them into activities that were positive. One child was so transformed by this mentoring that Leo persuaded him to climb "The Wall" (a structure with a safety harness). I will never forget the look on that child's face when he finally got to the top. Leo helped many young people reach to the height of their potential.
Leo generously donated not only his time to that camp but also his money and that helped the camp to continue on through the years long after I left the position. He even instigated an anniversary celebration for the Deaf camp, giving all the credit to others, but not himself. The world is a poorer place without Leo Yates, Sr. I will always remember his smile, his warm conversations and his heart of gold. He taught the world what it means to be a Christian and how to serve with grace and humility.
—Bishop Peggy Johnson
Read more
LaVerle Carrington was an active member, supporter and leader of the United Methodist Congress of the Deaf from its inception in 1973. He served the Oklahoma Conference Ministry with the Deaf for several years in the 1970's and early 1980's. He later grew Deaf ministries in the Great Rivers Annual Conference in central Illinois, which led to his hosting of the 1995 UMCD conference in Jacksonville, Illinois. LaVerle was also the head translator for a team that translated the 1989 United Methodist Hymnal into an ASL-gloss resource aid for interpreters translating hymns for worship. Titled, "Hymns for Signing," this resource aid was published in 1995 and continues to be used to this day, the royalties of which have benefited the Endowment Fund of the United Methodist Congress of the Deaf. Upon learning of LaVerle's death, Bishop Peggy Johnson of the Eastern Pennsylvania and Peninsula-Delaware Annual Conferences and former colleague in Deaf ministry, remarked "His death marks the passing of a great generation of Deaf ministry." The UMCD extends its sympathies to the Carrington family. More information.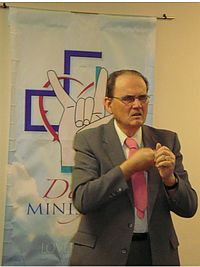 Richard Brownalenoir: Charles Richard Brownalenoir of San Marcos, Texas, passed away after a hard-fought battle with colon cancer on July 22, 2015. His loving wife, Esther, was by his side singing songs and praying with him to the end. He was born Charles Richard Brown on October 6, 1930, to Charles Richard Brown and Eva Drum Brown at their home in Charlotte, North Carolina. He graduated from the North Carolina School for the Deaf and went on to Gallaudet College where he received his Bachelor of Arts in Architectural Engineering and was valedictorian of his graduating class in 1956.
Richard met the love of his life, Esther Marilyn Dixon, at Gallaudet College. The two married in 1957 shortly after Esther graduated from college.
Richard was ordained a deacon in the Methodist Episcopal Church in 1964 and continued to dedicate his life to sharing God's words with the Deaf community. While ministering to the Deaf, Richard also maintained an active career as an architect with firms in North Carolina, Wisconsin, and Texas. Richard served as the first board president of Lovers Lane Academy for the Deaf.
Richard's love of history and his roots in North Carolina, led him to legally change his name later in life to Brownalenoir in honor of Lenoir county, where he was born.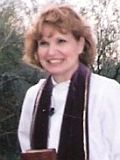 Rev. Diana Williams
---